A Skydiving Story
Book 1 of The Vertical Speed Chronicles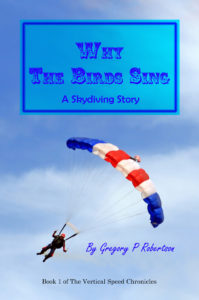 Orphaned at sixteen and assaulted at eighteen by a man whom she thought loved her, Vicki is searching for a life free from fear.
Forced to leave her home, she ends up at a desert airport filled with old airplanes and skydivers. When Vicki tries skydiving, she finds a wonderful sense of peaceful solitude as she hangs under her parachute high above the desert.
Ever fearful of another assault, she remains distant from the other jumpers and watches them from afar as laughter, love, danger, and the threat of sudden death punctuate their lives. Just when she starts to trust again, an act of betrayal devastates her and causes her to withdraw further into her solitary world.
Then, after having to bail out of a crippled airplane, she opens her parachute not knowing if the other jumpers from the airplane are alive or dead. She drifts slowly toward an unsure fate wondering if she will ever find happiness, friendship, and love again.
Available in eBook, Paperback, & Large Print Paperback.