A Skydiving Story
Book 2 of The Vertical Speed Chronicles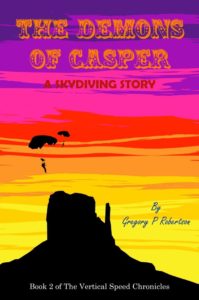 Just when Vicki thought life couldn't get any better, it took a drastic turn. It spiraled from bad to really bad. Then, it got worse.
Vicki has the life she had always hoped for. A job she enjoys, a boyfriend she loves, a peaceful desert in which to live, and skydiving to give  her the freedom of the air.
Without warning, her perfect life falls apart. The drop zone owners announce they have decided to retire forcing her to think about what she will do next. Then Rick, her boyfriend, tells her he is thinking about taking a job in another state. If that wasn't enough, Eddie, her nemesis from her hometown of Casper, shows up seeking revenge for her resisting him years before.
Eddie takes Vicki and her friends, Rick, Bob, and Nancy, hostage. He forces Rick and Bob to fly into Mexico to smuggle in drugs. Vicki remains back at the airport, tied to a chair, knowing that Eddie won't release her or Nancy. He has plans for them. Evil plans.
She quietly works to save Nancy and herself all the while hoping that Rick and Bob can survive their part of the ordeal. When she hears the airplane returning, she knows that time is up.
Available in eBook & Paperback